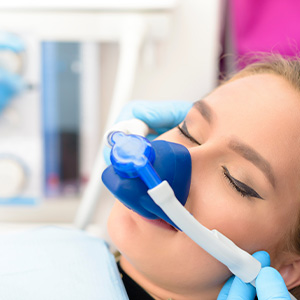 Some patients find it impossible to sit still in the dentist's chair, experience extreme anxiety, or have specific needs that prevent them from getting the dental care they need. If you fall into one of these categories or just want to get all of your treatment finished at once, you may want to consider sedation dentistry. A sedative can help you relax during your procedure and reduce your anxiety about the work that needs to be done. In addition, sleep dentistry allows doctors to complete multiple procedures in a single visit. Many patients are able to receive all of their dental treatments in a single day for the convenience of working around their busy schedules. Your oral health is our top priority! That is why we offer different options to improve your comfort during your appointment and make it as enjoyable as possible for you.
Types of Dental Sedation
For people who suffer from anxiety or fear, oral sedation may be a good solution that allows them to undergo dental treatment while feeling completely relaxed and at ease. This type of treatment involves taking a pill about an hour before your appointment. The medication can make you feel drowsy and relaxed. It also may cause you to slur your words and forget parts of your procedure, which can be helpful if you tend to be nervous about visiting the dentist.
Patients who suffer from severe dental anxiety or who have difficulty getting numb for dental procedures may be candidates for nitrous oxide sedation, also referred to as "laughing gas." When inhaled through a small mask that rests on the nose, the gas induces a state of euphoria and relaxation that can help patients get through many routine dental treatments. The effects wear off as soon as the mask is removed and it is totally safe.
Intravenous sedatives are administered intravenously through a vein in the arm or hand. These medications are quick acting and work almost immediately, causing a patient to become very relaxed and sleepy. This type of sedative helps patients remain calm during longer procedures such as oral surgeries. Patients typically don't remember the appointment at all after this type of procedure.
Who Needs Sedation Dentistry?
Patients who experience anxiety about going to the dentist can benefit from having a sedative agent administered before any dental treatment begins. Sedatives can help patients feel more relaxed and comfortable during their visit, so they can get the dental care they need without fear.
Some patients have a severe gag reflex that causes them to feel nauseous and uncomfortable while at the dentist's office. They may have an overactive gag reflex that triggers at inappropriate times. Sedating these patients can help them to relax and feel calmer throughout their visit, so they do not have to experience pain from the gag reflex.
Other kinds of patients who may benefit from sedation dentistry include children or patients who are medically compromised and cannot cooperate sufficiently during a dental procedure. For patients who have very low pain thresholds, the vibrations of the needles used during treatment can trigger discomfort and even feelings of panic. In these cases, it may be best to administer a sedative to help ease the patient's worry and make them feel calm.
A patient who has a hard time staying still during the appointment may also prefer to have a sedative before undergoing treatment. Dental treatments can often be lengthy, and some patients find it difficult to sit still for a full appointment. If this is the case for them, they can request the use of a sedative to help them feel calm and relaxed throughout the appointment.
Del Rey Dental is equipped with the best dentists and modern amenities that enable the best treatment for patients. To schedule your appointment with us, visit our office at 11525 Jupiter Rd #103, Dallas, TX 75218. You can also reach us at (469) 917-7444 and schedule an appointment.