Dental Checkups & Teeth Cleanings - Dallas, TX
We Want to Help You Smile Brightly for Life
While brushing and flossing every day at home is a very important part of maintaining healthy teeth, many dental problems can develop in sneaky, hard-to-see ways that may go unnoticed by untrained eyes. That's why regularly visiting a trusted dental office for dental checkups and teeth cleanings is so important! At Del Rey Dental, we'd love to see your whole family for ongoing dental care. Dr. Tadros isn't interested in rushing patients in and out the door – he enjoys taking the time to build a relationship with you and your loved ones that's based on mutual respect, kindness, and plenty of fun too. To schedule your next dental checkup and teeth cleaning in Dallas, don't hesitate to give our team a call.
Why Choose Del Rey Dental for Checkups & Cleanings?
Dedicated & Gentle Dentist
Extended Weekend & Evening Hours
All-Digital X-Rays for Safe, Comfortable Diagnostic Care
What Happens During a Dental Checkup?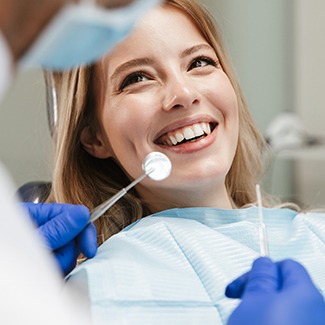 During a typical dental checkup, our team's top goal will be to form a comprehensive understanding of the patient's unique oral health needs and any concerning problems that may need further treatment. We'll take a close look at each individual tooth, the gum tissue, the resting bite, any existing restorations like dental crowns and fillings, and more, using digital dental X-ray technology to see what our naked eyes can't quite glimpse alone. Once Dr. Tadros has taken in all of this important information, he'll review his findings with the patient and help them develop a unique treatment plan that will address any serious issues. It's important to us that we give each patient their different treatment options with the risks and benefits of each.
What Happens During a Teeth Cleaning?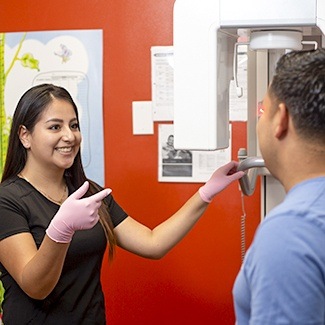 Over time, a bacteria-filled substance known as plaque is constantly forming on the tooth surfaces. While it can be cleared away with diligent brushing and flossing at home, even the smallest missed areas can gradually develop into the more stubborn and dangerous tartar over time. Tartar will contribute to the development of tooth decay and cavities, and it can only be removed with professional dental tools – that's where our talented team comes in! During teeth cleanings, we'll thoroughly eliminate plaque and tartar from throughout the mouth, also taking the time to get rid of any minor staining that's developed between appointments. Your smile will feel nicely polished afterwards! After the teeth cleaning, we can tell you what areas need to be focused on more during daily home care.