Dental Technology & Comforts - Dallas, TX
Explore Our Modern Dentistry and Amenities

At Del Rey Dental, our team always loves being able to introduce patients to the valuable benefits of modern dentistry's tools and technologies during their dental appointments! This advanced approach isn't only better for their oral health, but it also results in better patient relaxation, more efficient care that saves valuable time, and maximized accuracy for smile-inducing improvements. All the while, Dr. Tadros stays focused on what matters most – helping you and your family feel right at home every time you visit. Contact us today to schedule your first visit, or if you have any questions about our advanced dental technology and comforts in Dallas.
Why Choose Del Rey Dental for Dental Comforts & Technology?
All-Digital Dental X-Rays with Minimal Radiation
Calming Nitrous Oxide for Children & Adults
Experienced & Friendly Dentist
3D Scanning for Dental Crowns & Restorative Dentistry
3D scanners are tools that use lasers or white light to photograph a patient's mouth and teeth. These images are then combined together in a computer to create a 3D model of your teeth. This can help your dentist plan your restorative treatment more accurately, leading to better results and improved patient satisfaction. In addition to planning your oral health care and treatments, these models can help with patient education as well. They can give you a better picture of your smile, and you can often view them on a screen right in the treatment room at your dental office. Your dentist can then walk you through any issues they see and explain which treatments would be best for addressing the issues.
There are many benefits to using this type of technology for your dental care. It can help improve the accuracy of your treatment plan while also providing increased comfort and efficiency in your treatment process. This technology also helps with patient communication, allowing your dentist to illustrate issues and discuss them with you and your entire family. The benefits of digital imaging include the following:
Eliminate the need for gooey impressions
Get a more accurate impression in less time
Reproduce the most accurate tooth model possible
Send the impression digitally to a trusted lab partner
Receive your restoration faster than with a traditional impression
Offer patients a better overall experience
Spend less time in the operatory and more time helping patients
Trios Intraoral Scanner
A Trios intraoral scan is a type of digital imaging technology that provides a 3D image of a patient's mouth and teeth without the use of any uncomfortable, gooey impressions. With fast, precise, and accurate digital impressions, the intraoral scan can make your restorative dental procedures, like dental crowns, bridges, etc., more efficient, comfortable, and accurate. The high-quality digital impressions obtained with the intraoral scan helps our dentist fabricate dental prosthesis with better functioning and longevity.
Advantages offered by the Trios Intraoral Scanner include the following:
Superior scanning technology
No traditional, messy impressions
Accurate digital impressions that result in better diagnostics
Reduced chair-time
Intraoral Camera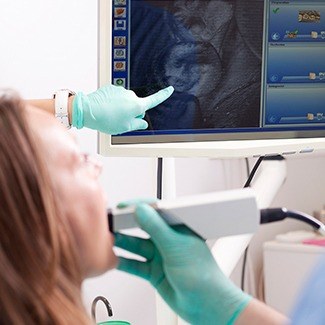 Do you ever wonder what exactly the dentist is seeing as you're sitting back in the operatory chair with your mouth open? Intraoral cameras can provide patients with the invaluable insight they need to feel fully confident about the treatment process! The process is simple – our team will maneuver a camera-tipped wand around the teeth and gums, capturing high-resolution images that are then pulled up on a nearby monitor for easy viewing. Dr. Tadros can then use these images as handy visual aids when discussing any concerning findings, possible dental service recommendations, and more.
Digital Dental X-Rays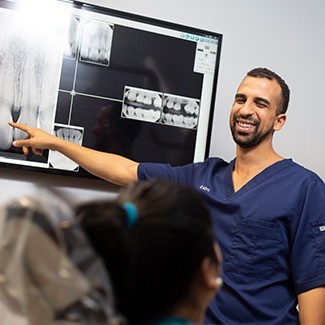 Traditionally, X-rays were captured on film, had to be tediously developed in darkrooms, and required huge, bulky filing cabinets for storage. Today, this process has been dramatically improved through state-of-the-art digital radiography! Now, our Dallas dental team can capture high-resolution digital dental X-rays of the teeth and jawbone and make them available for viewing within seconds. Any transfers of this information to separate specialists or insurance companies is an easy, stress-free process, and radiation exposure is dramatically reduced as well for added patient safety.
Nitrous Oxide Sedation Dentistry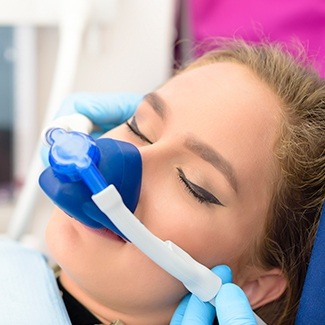 Does the thought of an upcoming dentist's appointment fill you or your loved one with serious anxiety? Our dental team understands that these feelings often can't be helped, which is why we want to do our best to make the experience pleasant and comfortable. Nitrous oxide (also known as "laughing gas") is a helpful little aid that can calm frazzled nerves throughout the dental treatment process, and it's perfectly safe for children and adults alike. The patient will breathe in the gas through a nasal mask, and within minutes, they should feel much more relaxed and content while still remaining conscious to respond to any questions from our team.
Learn More About Nitrous Oxide Sedation
VELscope
VELscope is a wireless handheld device that helps to detect signs and symptoms of abnormalities in the mouth. The device uses natural tissue fluorescence to detect the deformities of the tissues in the mouth. It has a superior blue light that excites the molecules in the oral tissues. The excited tissues emit colors of their own, showing the contrast between the normal and abnormal tissues. It helps to detect the pre-cancerous cells and suspect areas for surgical biopsy. VELscope is a convenient and easy-to-use device that provides quicker results. It is a cost-effective technology that offers expert outcomes for the patients.