Restorative Dentistry - Dallas, TX
I Have Chipped or Broken Teeth
Sometimes, despite our best efforts, teeth can still become damaged, decayed, or even incomplete over time. At Del Rey Dental, patients of all ages can find the kind, dedicated support they need in these trying situations from a team that truly cares. Dr. Tadros will be happy to review your available restorative dentistry options and help you determine the best path forward for rebuilding your smile's strength and appearance in lasting ways. To schedule a first appointment or ask us any questions you may have about restorative dentistry in Dallas, contact our dental office today.
Why Choose Del Rey Dental for Restorative Dentistry?
LAVA & Zirconia Metal-Free Materials for Seamless Restorative Improvements
State-of-the-Art Digital Dental Technology
Compassionate & Experienced Dental Team
What Happens If I Do Nothing About Damaged Teeth?
While it's certainly the easiest option to do nothing when dental injuries first strike, Dr. Tadros encourages our dental patients to seek out our team's guidance, even if the issue in question seems relatively small or "not that bad." Your teeth, unlike many other parts of your body, don't have the ability to heal naturally from physical injuries and breakage – instead, these problems are only likely to worsen over time and may even turn into dental emergencies later down the road. By addressing the damage as early as possible, our team can save your family valuable time, money, and headaches!
Dental Crowns
Dental crowns are a highly common and versatile style of restorative dentistry. Also known as "caps," dental crowns are designed to cover whatever remains of a natural tooth that's experienced a serious injury, advanced tooth decay, cosmetic imperfections, weakened structure, or other significant problems that need Dr. Tadros' professional intervention. Once the crown is securely in place, it will both preserve what remains of the natural structure while also replenishing the tooth's original shape, appearance, and ability to function.
Learn More About Dental Crowns
Metal-Free Dental Restorations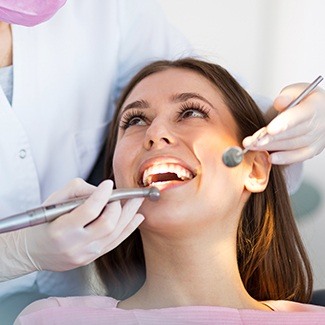 Now, there are image-friendly alternatives to restoring teeth with dark-colored metals like silver and gold! At Del Rey Dental, we primarily recommend LAVA™ Zirconia for a highly customized and aesthetically pleasing result that also provides the reliable durability patients need to live life to the fullest. This proven material can be turned into lasting dental crowns, inlays, onlays, and more here in Dallas.