Dentist Near Lochwood, Dallas, TX
Keeping Dallas Families Smiling
Welcome to Del Rey Dental! Our conveniently located, family-friendly dental office near Lochwood, Dallas provides a wide range of dentistry services to help you achieve and maintain a healthy, beautiful smile for a lifetime in a comfortable, convenient location. If you're new to the area or just looking for the right Dallas-area dental office for your family, give the Del Rey Dental team a call. We look forward to hearing from you.
Meet Your Del Rey Dental Team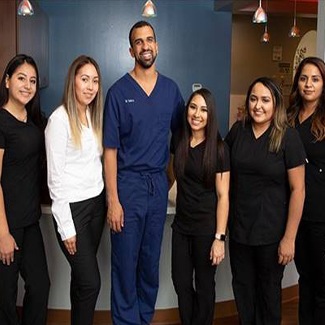 Our dedicated dentist, Andrew Tadros, DDS, hails from Southern California, but he's enjoyed making Dallas his home for the past several years. At Del Rey Dental, Dr. Tadros has surrounded himself with a team of dedicated professionals who offer comprehensive dentistry services with a dedication to delivering gentle, attentive dental care. Dr. Tadros and his dental team take the time to get to know you in order to provide treatment that is specified to your unique needs and oral healthcare goals. In short, when you're in our dental office, our team will give you our undivided attention, so you always feel welcome and completely at-home throughout your visits.
Dental Services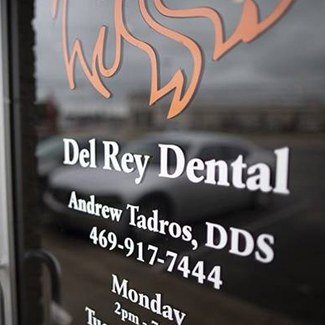 Like other dentists near Lochwood, Del Rey Dental is happy to offer a wide range of preventive, restorative, and cosmetic dentistry services. In addition to those dental services, we also provide a number of more advanced dentistry services, including:
Family dentistry – you can bring your kids and grandparents to see us for all of your dental care needs.
Gum disease treatment – we can fully renew oral health for those suffering from mild and advanced periodontal (gum) disease.
Smile makeovers – we can create a personalized cosmetic dentistry plan combining any number of treatments to deliver a flawless smile.
Emergency dentistry – we do our utmost to provide same-day appointments for those in need of urgent dental care to relieve pain and restore smiles.
Dental implants – we can replace a single tooth, a full row of teeth, and all the teeth in-between from the roots up with implant supported dental restorations.
Affordable Dental Treatment Options
We understand that the cost of dental care can be disconcerting, and we always do our utmost to keep the costs of our dentistry services affordable. Our knowledgeable team members work with dental insurance providers on a regular basis, so we are able to maximize your benefits and minimize your out of pocket treatment costs. We also work with third-party financiers to offer low and no interest payment plans for all your dental treatments.
We Care About Lochwood & Surrounding Communities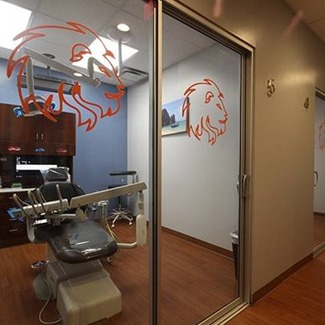 Our dentist and team are dedicated to giving back to our communities. We don't just work here in the Lochwood neighborhood. We live here too. Our team supports a number of local charities, we volunteer with local schools and children's organizations, and we support youth sports teams and clubs. If you have a charity that's close to your heart, tell us about it, and please feel free to join us for one of our charitable events.