Meet the East Dallas Dental Team
Here in East Dallas, Dr. Tadros is thrilled to have the support of such talented, passionate, and experienced team members! Every member of the Del Rey Dental family takes care to put the patient's needs first, working hard to create an enjoyable care experience from beginning to end. To learn more about the friendly faces you'll meet here, keep reading below:
Tony, Director of Operations/Practice Manager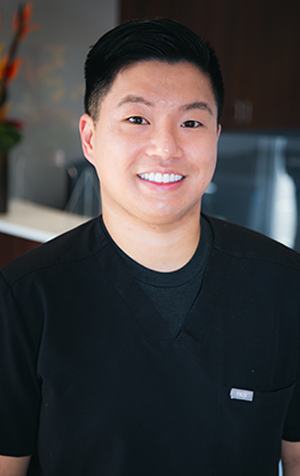 Originally from Wichita, KS, Tony has his Bachelor of Science from Wichita State University, his Master of Science from Southern Methodist University, and plenty of dental training from Baylor. His dental career covers over five years so far. As our dedicated director, he loves working closely with the team and knowing that he can count of them to carry out their duties while also collectively achieving the same goal of providing an enhanced, enjoyable experience for patients. Building relationships with staff and patients is really important to him, and he truly values being part of someone's dental journey towards a healthier, more confident smile.
Tony comes from a very large family – in fact, he's the youngest of nine siblings and has 31 nieces/ nephews so far! He is happily engaged to his fiancé and has two wonderful fur-sons whom he spoils beyond recognition named Rey (an Eskimo) and Chance (a tiny Pomeranian). As for personal hobbies, he enjoys dancing, gardening, tackling various home renovation projects, cooking new recipes from Tasty and Youtube, and traveling at least two to three times each year. He looks forward to Christmas every year as well because of the wonderful decorations and also getting to participate in the Angel Tree.
Karla, Account Specialist
Karla's dental career spans nearly five years so far. As part of Del Rey Dental, she loves that everyone's opinions are heard here and incorporated into the decisions of the practice – her voice truly matters! She also likes having fun with the other team members while also getting the job done right and providing each patient with quality dental care.
Raised in Dallas, Karla has a lovely husband and is the mother of two kind-hearted boys. Her family also has two fur babies named Mimi (a friendly Lab Retriever) and Khloee (a sassy Chihuahua). When she isn't at the office, her favorite hobbies include being with loved ones, traveling, listening to music, watching Netflix, cooking, and drinking a nice cup of coffee to start each day. She also likes dance and was on the Bachata Dance team in high school!
Marisol, Account Specialist/Registered Dental Assistant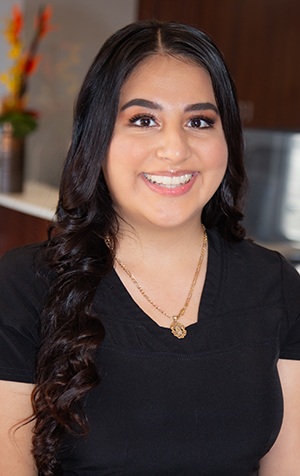 Marisol is originally from Pleasant Grove and has been a part of the dental world for over three years so far. She studied assisting at The College of Health Care Professions. Today, what she enjoys most about her position is the "chill" environment at Del Rey Dental and also the strong sense of unity that she and her coworkers have developed over time. Together, they are an honest, hard-working team that provides the best quality care possible to patients! She also feels lucky to have the greatest boss ever in Dr. Tadros.
Marisol's family consists of her parents, her two younger sisters, her long-term boyfriend, and her mini potbelly pig named Oinky. Outside of work, she really enjoys shopping, going on weekend adventures, and baking treats! She also loves staying organized and indulging in a nice cup of coffee at any time of day.
Ana, Lead Dental Assistant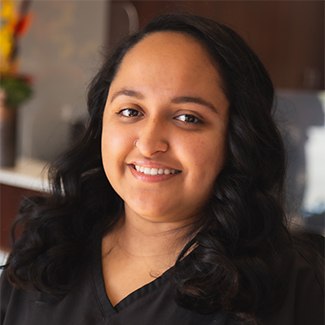 Ana is from the Palmer area and has been working in the dental world for over three years so far. She studied assisting at the College of Health Care Professions and is certified in X-rays/BLS. She truly loves the relationship all of the team members have here, as well as the overall environment of the office! Her boss, Dr. Tadros, and the office manager are amazing people who always make sure that the staff and the patients alike are well cared for.
Ana is the oldest of five siblings, with four younger brothers. Despite being a very rambunctious child in her younger years, she's never broken a bone! She recently became engaged to her amazing fiancé, and they have a puppy named Athena who's also kindly nicknamed "Wildebeest" because of her tendency to be a handful. Outside of working hours, she and her fiancé enjoy hiking, fishing, spending time with family, and watching beloved movie series like Lord of the Rings, Star Wars, and Harry Potter.
Anallely, Dental Assistant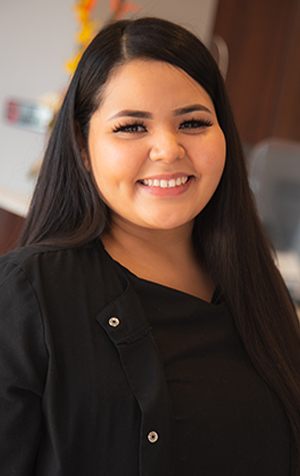 Anallely studied dental assisting at the PCI Health and Training Center, where she also served in the student council. She's been a part of our team for over a year now – with hopefully many more to come! Today, she thinks the best part of her job is the genuine feeling she gets after helping patients and seeing them walk out with big smiles. She truly loves her coworkers, her boss, and the overall environment of the office – everyone helps each other and always strives for success. She's definitely excited to come to work every morning!
A Dallas native, Anallely has a big, amazing family that includes hardworking parents, two sisters, and a brother. In her spare time, she enjoys keeping up with sports, traveling, going on adventures, trying new things, and simply having as much fun as possible.
Susan, Registered Dental Hygienist
A Dallas native, Susan's career in dentistry covers well over five years. She studied dental hygiene at Sandford Brown College and is certified in BLS/CPR, nitrous oxide, and laser therapy. At our office, she loves being part of such a fun and pleasant work environment! The entire team genuinely cares for the patients' wellbeing, and that's wonderful. She also takes great pleasure in educating patients about their oral health and showing them how to improve hygiene. Seeing them smile with confidence will always be rewarding for her.
Susan is bilingual and proudly embraces her Costa Rican-American culture. She is happily married to Julian, and together, they like stay involved in their church, hang out with loved ones, and try anything new and/or different. They're also passionate about traveling, especially trying local cuisines! During a trip to Jamaica on their honeymoon, Susan even got stung by baby jellyfish.