Replace Missing Teeth - Dallas, TX
Single and Multiple Tooth Replacement Solutions
The loss of one or more natural teeth can negatively affect a person's wellbeing in many ways – not only does your smile suffer, but your overall health, sense of self-confidence, and day-to-day quality of life are all likely to take a big hit as well. Thankfully, there are various options available for reliable and lifelike tooth replacements, and Dr. Tadros would like nothing more than to help struggling patients explore them here at Del Rey Dental. Our team isn't focused on dollar signs or production line dental work – we want to do what is best for YOU, your personal smile goals, and your family's budget! If you'd like to schedule a consultation to replace missing teeth in Dallas and learn more, don't hesitate to give us a call.
Why Choose Del Rey Dental to Replace Missing Teeth?
High-Quality, Beautifully Lifelike Dental Materials
Personable & Attentive Dentist
Personalized Treatment Plans for Maximized Success
What Happens If I Do Nothing About Missing Teeth?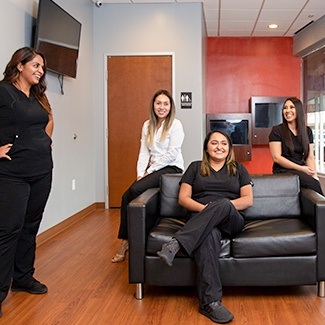 First, let's start with the easiest option – many patients who experience tooth loss simply choose to do nothing to correct the issue. Unfortunately, this hands-off approach can result in serious consequences over time for your health, oral function, and overall wellbeing. For instance, each missing tooth results in a 10% reduction in chewing ability, and the nearby healthy teeth may also start to shift out of place in order to fill the gap. If multiple teeth are lost, jawbone deterioration is also a very real concern – this is why many older people start to have a "hunched" facial appearance over time.
While the choice is always up to you regarding your smile's future, our team at Del Rey Dental does offer several high-quality tooth replacement options that can help patients reclaim their oral health and strong, functional teeth:
Dental Bridges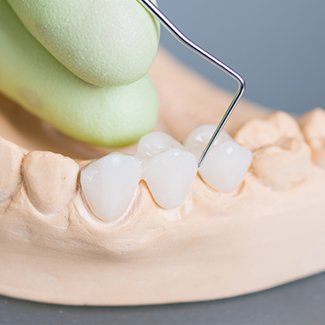 Dental bridges are named as such because they're designed to literally "bridge" the gap left by consecutive missing teeth! This lifelike, sturdy prosthetic is securely anchored in place with the help of two dental crowns, which are placed on nearby healthy teeth. They work to hold the bridge in place within its new home so that it can function like natural teeth, providing the necessary biting strength.
Dental bridges offer several valuable benefits to patients who've experienced tooth loss. In addition to renewing their self-confidence and helping their smile function properly once more, the placement of the dental bridge will prevent natural teeth from shifting out of place. Its non-removable fit is also very secure and stable – no need to worry about "slippage."
Dentures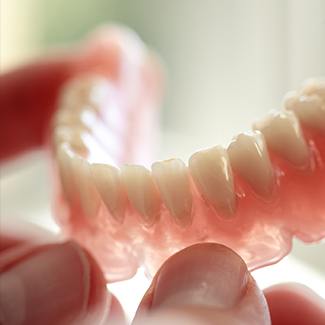 Dentures have been around for hundreds of years now – they're definitely the oldest tooth replacement solution by far! Today's modern dentures are more attractive, more lifelike, and more reliable than ever before while still offering a nicely cost-effective solution to serious tooth loss.
At Del Rey Dental, patients will have access to both full dentures (which are designed to replenish an entire arch of natural teeth) and partial dentures (which can replace certain missing teeth along a single arch while leaving the healthy teeth safely in place). Dentures sit atop the gumline and are removable for oral hygiene purposes and convenient storage during sleep.
Dental Implants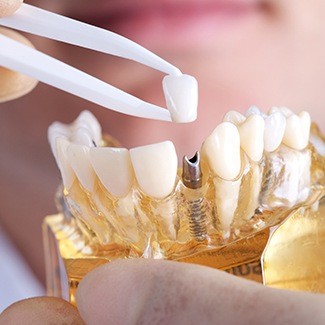 While it may not be possible to literally turn back the clock when it comes to regaining lost natural teeth, dental implants are the next best thing! This modern style of tooth replacement is very unique because it focuses on rebuilding the whole tooth, not just the white crown that sits atop the gumline. By also replacing the root from beneath the jawbone, the patient's oral health will be much better preserved, and the new "tooth" will be virtually indistinguishable in look and feel from the original structure to boot.
Dr. Tadros is happy to partner with trusted oral surgeon Dr. Chris Brown at Texas Wisdom Teeth & Dental Implants when providing dental implant care. They will handle the initial surgery, while our office will design an attractive and long-lasting dental crown to rest atop the implant.