Children's Dentistry - Dallas, TX
We Love Caring for Growing Patients
At Del Rey Dental, we love nothing more than seeing kids leave our dental office with big smiles on their faces! Far too often, our team hears horror stories from parents and kids about previous experiences at the dentist's office that have left them fearful of future care. That's why Dr. Tadros works so hard to create a genuinely welcoming, friendly, and fun environment here at our dental office. By spreading positivity during every visit and building good habits early on in life, we hope to help our special patients enjoy a stronger, healthier smile well into adulthood! We feel the better experience your kids have at the dentist, the more likely they are to take care of their teeth at home! Contact us today to schedule a first visit for children's dentistry in Dallas.
Why Choose Del Rey Dental for Children's Dentistry?
Works Closely with Board-Certified Pediatric Dentist Dr. Ali Bayat
Extended Weekend & Evening Hours
Video Games In Waiting Room
What Will Happen During My Child's Dental Appointment?
5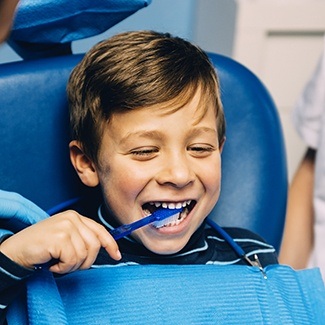 Our approach to your son or daughter's initial dental visit will depend on their current age and level of emotional maturity – we always take the time to personalize their experience so that it's as enjoyable and fear-free as possible!
For instance, if our patient is visiting the dentist's office for the very first time as a toddler, we'll keep the appointment short and very gentle. A careful examination of the existing teeth, gum tissue, and developing jaw will be carried out so that any developmental problems can be pinpointed as early as possible. Dr. Tadros partners with Dr. Ali Bayat, a board-certified pediatric dentist, to ensure that your loved one receives the high level of care they deserve. Our team can also provide parents with dedicated guidelines regarding good oral hygiene practices at home, how to prevent cavities, how to handle teething, and much more.
If your child is coming to our dental practice as an older patient, we may recommend further children's dentistry services like professional teeth cleanings, dental sealants, fluoride treatment, tooth-colored fillings, and more.
How Can I Help My Child Have a Positive Dental Visit?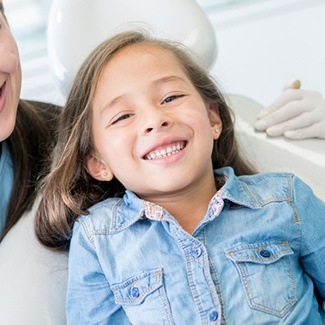 Before their first proper appointment, it may help your child to visit during a parent or a sibling's dental checkup. This will take off the pressure while also allowing them to get used to the sights and sounds of our Dallas dental practice.
Make sure that you're always using positive language when talking about the dentist's office. Children are more perceptive than we think – if you're visibly anxious, they'll likely feel that way too.
Bring along a comfy blanket or stuffed animal to keep your son or daughter company in the treatment chair. This touch of home may help them feel more relaxed throughout their visit.
Children's Dentistry FAQs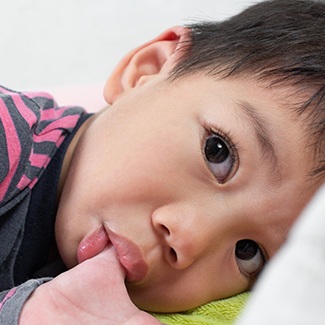 Do you have questions about your child's dental care and oral health? At Del Rey Dental, our children's dentist in Dallas is passionate about protecting fragile and developing smiles so they can grow to be happy and healthy. For your convenience, we've answered some common questions we receive from parents about their child's dental health below.
When should my child first visit a dentist?
The American Dental Association recommends scheduling your child's first appointment with their family dentist in Dallas by the time their first tooth appears in their mouth. These early visits are primarily meant to acclimate your child to the sights and sounds of the dental office and help them learn more about the importance of taking care of their teeth and gums. It's always better to start sooner rather than later!
What happens at my child's first dental appointment?
At your child's very first dental appointment, our team will introduce them to the treatment room and all the neat gadgets in it. We'll examine their mouth to make sure that everything's developing as it should and make sure that any of the teeth they have are healthy. We'll also get to know them and spend time making them feel comfortable and confident in our office, so they'll feel excited about visiting us again. Our primary goal during these initial appointments is to make sure that they develop a positive relationship with the dentist and have a fun time!
How can I make sure my child isn't scared of the dentist?
It's not uncommon for children to feel scared of the unknown, which is why it's a good idea to let your child know what to expect during their first dental appointment without going into too much detail. You can also do a "practice visit" at home so they have a good idea of what will happen. Our dental team loves working with children, so we'll make sure that they have a great first experience and don't feel threatened or intimidated in our office.
How do I keep my child from getting cavities?
Cavities are the most common threat to children's oral health because kids are still learning how to properly clean and care for their smile. If your child is prone to cavities, we may suggest preventive dentistry measures such as fluoride treatments or dental sealants to protect their teeth from decay. These will strengthen their protective enamel or shield their teeth from collecting food debris and plaque.
Is it bad that my child sucks their thumb?
Thumb-sucking is completely normal for children, and it's a habit that you shouldn't worry about unless they continue aggressively doing it as they get older and more teeth grow in. If your child is still sucking their thumb by the age of four, it's a good idea to begin looking into how you can help them break this habit to avoid developing bite problems as they get older.