Dental Implants – Dallas, TX
Replace Missing Teeth with the Next Best Thing
When it comes to replacing missing teeth, you have plenty of options these days. However, if you want to replace your missing teeth with the next best thing, dental implants in Dallas are the clear choice. This tooth loss solution offers unmatched comfort, longevity, and functionality that you simply just can't get with traditional options like dentures and dental bridges. You can get back to eating all your favorite foods and smiling confidently with a complete set of beautiful pearly whites once again. Just give us a call today to schedule your consultation and learn more about how dental implants can improve your quality of life!
Why Choose Del Rey Dental for Dental Implants?
Partnered with Trusted Local Surgeon for Optimal Results
Replace Any Number of Missing Teeth for Decades
Reasonable and Fair Prices with No Hidden Fees
What Are Dental Implants?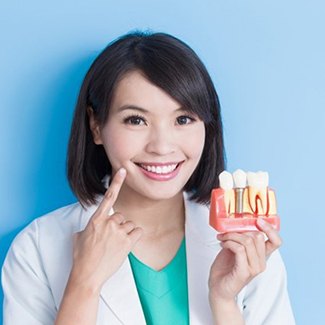 There are three parts to a dental implant. The dental implant itself is a small titanium post that is inserted directly into the jawbone to replace the roots of a missing tooth. On top of the post is a small connector piece called an abutment that fastens the final restoration into place. This custom-made dental crown, bridge, or denture is precisely crafted with state-of-the-art technology and high-quality materials for absolutely seamless results. The end result is a newly rebuilt smile that looks, feels, and functions just like natural.
The 4-Step Dental Implant Process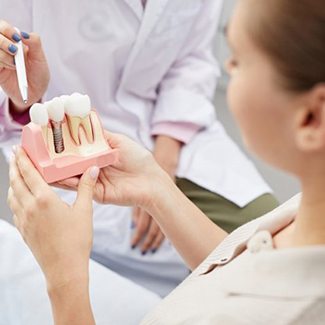 Rebuilding your smile from the roots up requires a longer process than simply getting dentures or a dental bridge. In fact, treatment will typically include multiple stages that take place over the course of several months. However, once your dental implant has been placed by the trusted oral surgeon we partner with Dr. Chris Brown of Texas Wisdom Teeth & Dental Implants, you can easily expect it to last for 30 years or more. Most patients enjoy their dental implants for life with the proper care! While each dental implant treatment will look slightly different, there are four main steps you can expect: the initial consultation, the dental implant surgery, osseointegration, and the delivery of the final restoration.
The Benefits of Dental Implants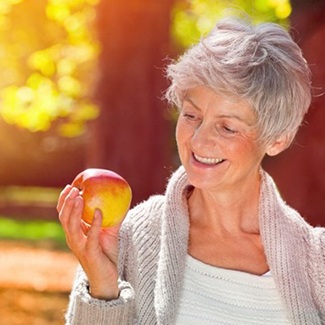 Thanks to their unique method of replacing missing teeth both above and below the gumline, dental implants are able to provide many important benefits that other options lack. They're widely regarded by both patients and dentists alike to be the gold standard of tooth replacement because of how significantly they can improve a person's quality of life. From enhancing day-to-day tasks like eating and smiling, to preventing oral health issues like jawbone deterioration, to promoting better long-term health and wellbeing, it's no wonder why dental implants are quickly becoming one of the most popular ways to replace missing teeth!
Who Dental Implants Can Help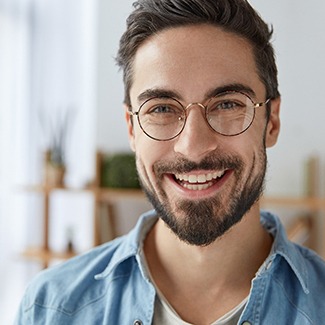 Wondering if dental implants are right for you? While the only way to know for sure is to come visit us for a consultation, practically any healthy adult with missing teeth can restore their complete, confident smile with dental implants. No matter how many teeth you're missing, we can create a treatment plan to help fill all the gaps in your pearly whites. However, many of our patients are not great candidates for dental implants initially. If needed, we'll work with you to address any issues that stand between you and your new smile.
Who Is a Good Candidate for Dental Implants?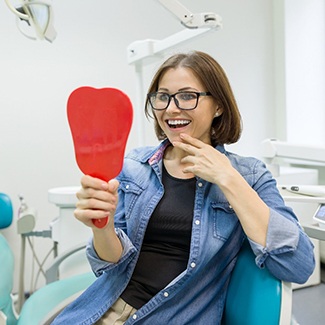 During your first appointment, we'll be looking for three key factors:
Good overall health (well enough to undergo minor surgery)
Great oral health with no signs of cavities or gum disease
Strong, healthy jawbone with adequate density
If you don't have one or more of these factors, there's no need to worry. Preliminary treatments like gum disease treatment, a tooth extraction, or a bone graft may be able to help you clear the hurdles that stand between you and your new smile. Once you're ready to begin treatment with dental implants in Casa View, we'll plan how many dental implants you'll need as well as what type of restoration depending on the extent of your tooth loss:
Missing Single Tooth
In the past, the only way to replace one missing tooth was to file down the neighboring healthy teeth and place a traditional dental bridge. Now with the help of dental implants, we can place a single dental implant post topped with a beautiful dental crown to fill in the gap in your smile without altering the nearby teeth.
Missing Multiple Teeth
There are a few ways we can handle missing multiple teeth. If the teeth are consecutive, we can place one dental implant on either side of the empty space and secure a dental bridge between them. For teeth in different parts of the mouth, we may be able to secure a partial denture in place, which would save time and money on replacing them each individually.
Missing All Teeth
For patients who are missing all or most of their teeth, an implant denture is the perfect choice. Using four to eight precisely placed dental implants, we can anchor into place a full denture to restore all your pearly whites.
Understanding the Cost of Dental Implants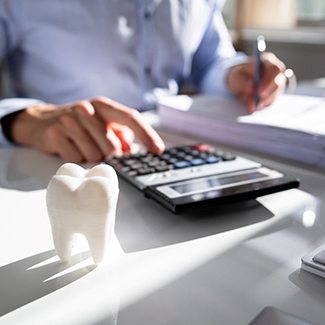 At Del Rey Dental, we firmly believe in the importance and uniqueness of a person's smile. That's why we don't use cookie-cutter dentistry. Each dental implant treatment is specifically tailored to the unique needs and goals of the patient. This makes it somewhat difficult to provide an estimate of dental implant costs before your initial consultation. In general, it may cost between $3,000 and $6,000 to replace a single tooth with a dental implant, with prices going up from there depending on the number of missing teeth. While this more expensive than other tooth replacement options, this one-time investment in your smile can last a lifetime. We'll walk you through a break down of all the expected costs so you know exactly what to expect before you decide to begin your treatment with dental implants in Lochwood.
Maintaining & Caring for Your Dental Implants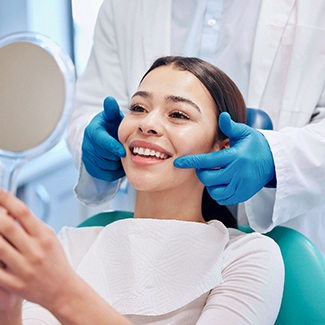 Yes, dental implants are highly effective as replacement teeth. They have the potential to keep your smile strong and healthy for a lifetime! Even so, they'll only work if you care for them properly. Otherwise, they're pretty likely to fail early from damage, infections, or other factors. Of course, learning about dental implant care in Dallas is possible. To do so, keep reading and discover tips for helping your new teeth last a long time.
Make Oral Hygiene a Priority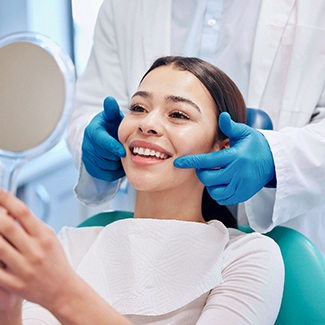 Technically, dental implants can't suffer cavities. They're made of materials that aren't affected by plaque and bacteria. Despite that fact, though, you still need to clean them daily.
You see, implants are placed next to your natural teeth and gums. That means they're affected by nearby oral issues. For instance, gum disease can cause gums to recede and loosen an implant. The condition could also erode the bones supporting your prosthetic.
To prevent these outcomes, you'll need to practice good oral hygiene. Namely, brush twice daily, floss once daily, and rinse with fluoridated mouthwash often.
Eat a Healthy Diet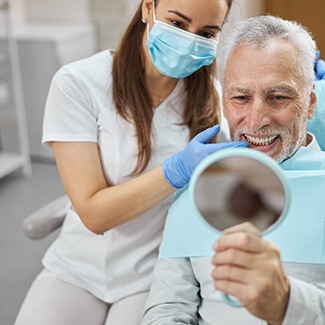 Being durable, implants generally let you eat as you please. However, it's still better to maintain a mouth-healthy diet.
The fact is that some foods are risky for implants. Hard ones – pretzels, nuts, chips, etc. – can chip the new teeth. On the other hand, sticky and sugary things can wedge between implants and irritate nearby gum tissue. They'd then cause issues like cavities and gum disease – problems that trigger implant failure.
In contrast, many mouth-healthy items help implants last. Lean proteins, leafy greens, and dairy products contain nutrients that boost your oral health. Examples include calcium, phosphorus, and vitamin C – these can prevent gum disease and strengthen your jaw.
Break Bad Habits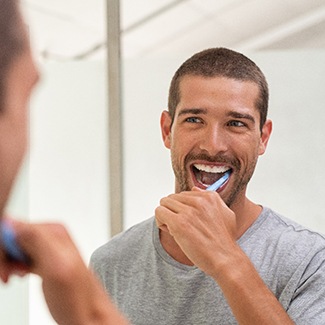 While often enjoyable, bad oral habits can cause implants to break or fail. You should thus stop them before or soon after treatment.
One practice you should especially quit is smoking. Cigarettes, cigars, and similar products contain tobacco, which slows your recovery from implant surgery. It also results in gum disease that causes implant failure.
If it's applicable, try to stop chewing hard objects as well. Biting on fingernails and ice can chip implants over time.
Protect Your Dental Implants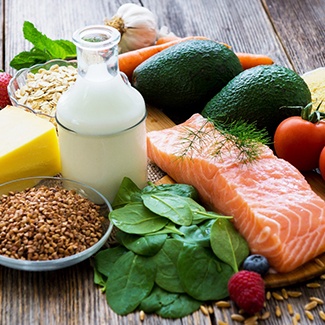 Unfortunately, implants aren't indestructible. They can suffer damage like any other teeth. That being the case, protect them as best you can.
The best protective approach is to wear a mouthguard. You see, one customized for sports would protect your smile from dental injuries. Meanwhile, a nightguard can keep your implants from wearing out via grinding.
Schedule Regular Dental Checkups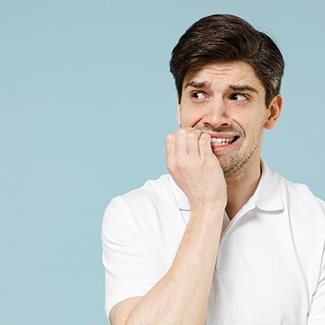 For better or worse, you can't maintain implants all on your own. There'll always be oral issues that you inevitably miss. Therefore, make sure to attend dental checkups and cleanings regularly. Your dentist will provide further protection.
Remember, dentists are the best at preventive dental care. Their checkups diagnose and treat oral issues before they get severe. Consequently, they'll stop potential threats to your implants. You can then rest easy and enjoy your restored smile.