Nitrous Oxide Sedation Dentistry – Dallas, TX
We'll Help You Relax in the Dental Chair
If your heart starts pounding or your palms get sweaty at the idea of visiting the dentist, then you're not alone. An estimated 60 percent of people deal with some degree of anxiety surrounding dental care. This leads many people's oral health to suffer as they put off getting the treatment their smiles need. Thankfully, that doesn't have to be the case. Dr. Andrew Tadros is a skilled dentist who offers nitrous oxide sedation dentistry in Dallas, which can ease your dental anxieties with nitrous oxide. Whether you need help relaxing for a dental checkup and teeth cleaning or you're nervous about the sights and sounds of a dental office, we'll help you relax in the dental chair.
Why Choose Del Rey Dental for Nitrous Oxide Sedation?
Safe for Patients of All Ages
Soothe Your Dental Anxieties
Experienced and Friendly Dentist
How Does Nitrous Oxide Work?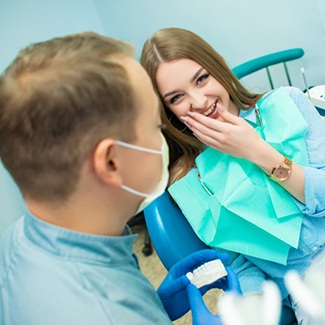 You might have heard nitrous oxide referred to as its more famous nickname, "laughing gas." A few minutes before your procedure is set to begin, we place a small mask over your nose, though which you breathe a colorless, odorless mixture of nitrous oxide and oxygen. Throughout your appointment, Dr. Tadros can adjust your dosage as needed.
As this sedative takes effect, you won't exactly be "put to sleep." Instead, you'll be fully conscious, but you'll achieve a level of relaxation so deep that you'll be able to receive whatever treatment your oral health needs. You'll be more than awake enough to respond to our requests during the procedure. Within minutes of breathing in the gas, you'll start to feel light-headed. Some patients report tingling in their arms and legs or feeling like they're floating. Overall, you'll feel extremely comfortable. You won't be very aware of your environment. In fact, many patients who undergo nitrous oxide sedation have no memory of their procedure afterward.
Once your treatment is done and you stop inhaling the gas, its effects should dissipate within minutes. In most cases, you'll be able to drive yourself home and resume your day as normal.
Am I a Candidate for Nitrous Oxide?
If you're nervous about the idea of getting dental work done, you might be a candidate for nitrous oxide. We typically recommend it for patients who have:
Anxiety or fear of the dentist
Powerful gag reflex
Sensitive teeth or gums
Trouble sitting still for long periods of time
Difficulty holding their jaw open
A desire to undergo several procedures in one go
Nitrous oxide is usually not suggested for patients who are pregnant, have high blood pressure, or medical conditions like glaucoma. Let your dentist in Dallas know about your medical history before undergoing this form of sedation.
How Long Does It Take to Recover from Nitrous Oxide Sedation?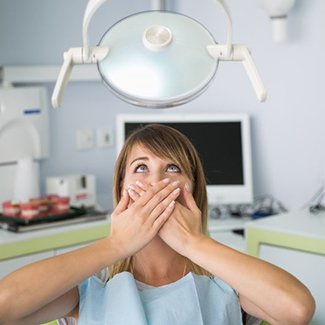 Unlike other sedatives, nitrous oxide shouldn't cause any lingering side effects. Because of this, you may not require any special accommodations like needing someone to take you to and from your appointment. However, Dr. Tadros may have special follow-up instructions depending on your treatment. Be sure to adhere to these instructions to a tee.
Let Us Help You Relax Today!
Don't let your fear of the dentist get in the way of maintaining a healthy and beautiful smile. if you're nervous about an upcoming appointment or visiting the dentist in general, contact Del Rey Dental and ask about nitrous oxide sedation. We look forward to helping you easily receive the care you need!